LETTER FROM THE CHAIR
There is no letter from the Chair this month due to illness. Get well soon Michael!
POSITIVE AGEING EXPO
(Fremantle Town Hall).
Despite a wet and cold day, the Positive Ageing expo with over 50 stalls was well attended. GRAI was there to promote the Befriender program and the games afternoons. We are exploring the possibility of running a games afternoon at the Fremantle Library.

JUNE QUEER BOOKCLUB
In June, the Queer BookClub dipped it's toes into poetry with the anthology 'Clean' by Boorloo based non-binary poet; Scott-Patrick Mitchell (SPM). Clean is their first full-length poetry collection, a story of addiction and recovery, in relation to WA's methamphetamine crisis.


The poems from Clean are a frank glimpse into the bleakness of a drug user's world, but to hear SPM perform them with such power and imagery was as moving as it was inspiring. They also provided us with insights into the backstories of the poetry; i.e., only one poem has the word 'junkie' (which was deliberate), to the poem that has the words printed in white ink!

SPM was also so generous with their time and insight into ways that poets approach their writing and how they make their poems speak to the reader.
COMING UP
LGBTI ELDERS GAMES HUB
CITIPLACE
Unfortunately, this month's games hub has been cancelled due to staff illness. Our next event will be on Thursday August 4th (1-3pm).
The last games afternoon at Citiplace was great fun and the next Perth CBD one will take place at the Upper Level City Railway Station Complex, Wellington St, Perth CBD
We have real coffee and chocolate biscuits!
The venue is accessible by car, or train/bus – it is one minute walk from the Art Gallery of WA – just before leaving the station complex. It is also accessible from the Citiplace Carpark by taking the lift to the Ground Floor and going around the corner to the right, or taking the escalator from the Fremantle Train Platform and going to the left).
"𝙄𝙩 𝙬𝙖𝙨 𝙖 𝙡𝙤𝙫𝙚𝙡𝙮 𝙖𝙩𝙢𝙤𝙨𝙥𝙝𝙚𝙧𝙚. 𝙄 𝙚𝙣𝙟𝙤𝙮𝙚𝙙 𝙩𝙝𝙚 𝙘𝙤𝙢𝙥𝙖𝙣𝙮 𝙖𝙣𝙙 𝙞𝙩 𝙬𝙖𝙨 𝙛𝙪𝙣. 𝙀𝙫𝙚𝙧𝙮𝙤𝙣𝙚 𝙬𝙖𝙨 𝙨𝙤 𝙬𝙚𝙡𝙘𝙤𝙢𝙞𝙣𝙜!"

Peter…
If you need more information or you would like support getting there, please contact Rowan at villagehub@grai.org.au
RIGHT TO BELONG: LGBTI PEOPLE & AGED CARE ***FREE TRAINING***
CHRISTMAS IN JULY
COMMUNITY OF PRACTICE ***FREE TRAINING***
BARN DANCE
We have had an extraordinary response to the release of tickets for Barn Dance Perth, which will takes place on Saturday August 20th … the tickets (800) sold out in 8 days…what a record!!!
We do have some spare tickets that we will give away at our Xmas in July event (23rd July) and the Bingo in the Barn event (12th August). You can also put yourself down on the wait-list
and email us to let us know that you are GRAI members so we can prioritise you.
https://www.eventbrite.com.au/e/barn-dance-perth-2022-tickets-339888554817
Lesbian 'Old School' Spring Dance
Saturday October 15th (7pm – 11.30pm)
Royal Park Hall, 180 Charles Street, North Perth
Music from 70's,80's and 90's low cost event.
Volunteers Needed : Please contact Kedy if you can help @ eo@grai.org.au
Looking for a DJ for the night.
GRAI PROJECTS
GRAI'S BEFRIENDER PROGRAM
Updates
Since the Befriender programme began in late January last year, we have connected seven LGBTI elders with beFRIENDers/buddies who keep in touch and visit them regularly or take them on outings.

If you know of a trans woman (aged 55+) in the Northern Suburbs who would like to be beFRIENDED, please contact Rowan at villagehub@grai.org.au
This is an opportunity to play board games and have a cuppa and a chat in a casual and supportive environment. We have one group that runs in the Perth CBD on the first Thursday of each month, and we are looking at starting new groups in Woodvale (NOR) and Fremantle (SOR). Please email Rowan at villagehub@grai.org.au to express your interest.
Perth CBD event: Thursday 4th August @ Citiplace CommunityCentre, Upper Level Walkway, City Railway StationComplex, Wellington Street, Perth, 1-3pm*
New Facebook Group for Trans Elders
Trans elders who transition or affirm their gender later in life face different challenges and issues to those who do so earlier in life. In recognition of this, GRAI has set up a private Facebook group called 'GRAI Transitions Peer Support'. If you would like to join the group, follow this link.
CONTACT GRAI
Your views are important
If you have news or views to share that are relevant to making the world a better place for LGBTI elders, contact: info@grai.org.au. We look forward to hearing from you, or seeing you at one or several of our upcoming events!
GRAI's new contact address:
PO Box 350
Mt Hawthorn
WA 6915
Staff Contacts
If you would like to contact Kedy Kristal (Executive Officer), please email her at eo@grai.org.au or call her Mobile: 0484 639 886

If you would like to contact Rowan Brooker (Befriender Coordinator/Newsletter Coordinator), please email him at villagehub@grai.org.au or call him on 0493 368 023on Wednesdays or Thursdays (or text/leave a message).
Quote of the Month
"The brains of the older adults process faster and more accurately because they use both sides of the brain simultaneously. The corpus callosum between the two hemispheres of the brain gets thicker as we age and fully matures only in our 50's."

Jeanette Leardi
Jeanette Leardi is a social gerontologist, community educator, writer, editor, public speaker, and aging wellness leader who has a passion for older adult empowerment.
REGULARS
QUEER BOOK CLUB

July Meeting
July's book is Detransition, Baby – a debut novel by trans author Torrey Peters.
This book has been given praise for crafting a tender exploration of gender, parenthood, love, and trans life.
Everyone is welcome to join us to discuss Detransition, Baby on Wed 27th July at 6pm at Connect Vic Park – 5 Mackie St. Queer Book Club Facebook Group
Meet'n'Muse
Meet n Muse (MnM) discussion group for older LBT women, has two locales:
The Perth group has, by agreement with regular attendees, cancelled its meetings for the time being. The group will resume meeting at Citiplace when members feel comfortable to begin meeting in person again. Perth attendees are welcome to attend the Mandurah meetings, which are held outdoors.
The Mandurah group is meeting on the 1st and 3rd Sundays as usual (1.30pm), at an outdoor venue.
Musers usually discuss a given topic of interest for 1 hour, then mosey on to a nearby café. New members are always welcome, please contact Pam for further information and to confirm meeting dates/times and location: GRAIPamm@gmail.com or 0420 929 583.
Prime Timers
Prime Timers is a vibrant social club for mature gay and bisexual men, offering a full calendar of diverse activities to keep you well-connected and enjoying life. Meetings are held 2pm on the second Sunday of each month, at 'The Homestead' 5 Mackie St, Vic Park, with a guest speaker and afternoon tea. Other activities include dinner nights, coffee mornings, lunch club, book club and special outings. Visit www.primetimerswa.com.au
OUTdance
OUTdance is the place to go to get fit and have fun 🙂 They hold LGBTI community dance classes every Tuesday from 7:00pm at the Mt Hawthorn Community Hall, 197 Scarborough Beach Rd. Relaxed and non-competitive, OUTdance always welcomes new members. Contact Jan on 0401 700 562 or visit the website here.
Perth Outdoors Group
Perth Outdoors Group are mature age LGBTI folk who enjoy a wide range of social activities (not always outdoors!) Functions are held monthly on weekends and there's also a monthly coffee club. For further info visit https://www.perthoutdoorsgroup.com/
Rainbow Toastmakers
Find your voice at Perth Rainbow Toastmasters! Develop confidence in public speaking, communication, leadership and presentation skills… in an LGBTI+ friendly environment… Rainbow Toastmasters meet 1st and 3rd Sundays of the month, 2-4pm, Level 1, 931 Albany Highway. Contact Tim, perthrainbowtm@gmail.com or 0403 051 081. FB: Perth-Rainbow-Toastmasters.
RECENT RESEARCH REPORTS AND TOPICS OF INTEREST
COTA: Understanding the Mistreatment of Elders Guide
This guide was released on Elder Abuse Awareness Day to inform older West Australians about the resources and services available if they are at risk of or experiencing elder abuse. Published by Council on the Ageing (COTA) Western Australia and available on their website: www.cotawa.org.au
REPORT INTRODUCTION
Elder abuse is the catch-all term that refers to the ways by which people can mistreat the elderly. We know that the reporting of this mistreatment does not reflect the actual incidence. Older people are understandably very unwilling to report a perpetrator who may be a family member or a close friend or caregiver, often because this person is the one who has principal responsibility for their care and often their finances. For this reason, much of the problem has been hidden, although our society is increasingly talking about it and encouraging older people not only to report it but also to take steps to lessen the likelihood of being mistreated as they age.

Both COTA (WA) and the Western Australian Government firmly believe that a successful approach to lessening the occurrence of the abuse of older people is based on empowering older Western Australians to deal with it if it occurs, and importantly, to prepare for older age by developing people's ability to be self-determining, capable of making informed choices and able to make their own decisions. This requires providing older people and their families with the best possible information to support them in making decisions about their lives.

Consequently, this guide has been developed to explain and illustrate key issues associated with the mistreatment of older people, including:
– Outlining the different kinds of abuse
– When and where the abuse commonly occurs
– Possible reasons for the occurrence of the abuse
– How people, including potential victims, their families and friends may help to prevent mistreatment occurring
– Strategies potential perpetrators and caregivers may adopt to help them avoid mistreating older people in their care
To increase the value of this guide for seniors and their families and friends, we have included a 'Quick Guide for Resources and Support' with contact details for accessing key resources and support, as well as a more extended 'Support and Referral Resources' with fuller details about support available in WA.
Also provided are some examples of what different types of mistreatment look like, for the victim or the observer.

We hope that you find this guide helpful and informative.

Chris Jeffery
Chief Policy Officer, Council on the Ageing (WA)

To get a full copy of the report click here.
TOPICS OF INTEREST
Stonewall Forever: A Documentary about the Past, Present and Future of Pride (Directed by Ro Haber)
The history of the Stonewall Riots is equally as cherished as it is charged. There are questions of who was there, who "threw the first brick" and who can claim Stonewall. This film doesn't answer these questions but instead it aims to expand the story of Stonewall by including more voices in its telling.
Stonewall Forever, the documentary, brings together voices from over 50 years of LGBTQ activism to explore the ongoing legacy of Stonewall.

Stonewall Forever Watch the documentary here.
ACT moves to protect the rights of intersex people.
The Australian Capital Territory government has released a consultation draft law to protect the rights of intersex people.
If passed, the bill would ban deferrable medical interventions on children with intersex traits until they're old enough to decide treatments for themselves. There will be exceptions for emergency and urgently necessary procedures. The bill will criminalise unnecessary medical interventions and create an independent body to determine whether other proposed procedures are urgently necessary.
Following the consultation period, a bill is likely to be introduced into the ACT parliament later this year. The ACT is the first Australian jurisdiction to move ahead with such laws. It delivers on long-standing community demands, and recommendations by the Australian Human Rights Commission.
The Victorian government has committed to similar reforms. The New South Wales government has acknowledged a need to respond to these developments in its first LGBTI Health Strategy
The Conversation Read the original article here.
Thailand moving towards legislating same sex marriages.
Thai politicians have passed four different bills on same-sex unions, in what appears to be a step towards Thailand becoming the second territory in Asia to legalise same-gender marriages.
Thailand has one of Asia's most open and visible LGBTQ+ communities, adding to its image of tolerance and attraction as a liberal holiday destination for foreign tourists.
Earlier this month, thousands of members of Thailand's LGBTQ+ community raised rainbow flags in the country's first official parade celebrating pride month and supporting gender equality.
But activists say Thai laws and institutions are yet to reflect changing social attitudes, and still discriminate against LGBTQ+ people and same-sex couples.
ABC News Read the original article here.
New study shows link between Vitamin D deficiency and dementia

Dementia is one of the major causes of disability and dependency among older people worldwide, affecting thinking and behaviours as you age – but what if you could stop this degenerative disease in its tracks? A world-first study from the University of South Australia (UniSA) could make this a reality as new genetic research shows a direct link between dementia and a lack of vitamin D. Investigating the association between vitamin D, neuroimaging features, and the risk of dementia and stroke, the study found:
low levels of vitamin D were associated with lower brain volumes and an increased risk of dementia and stroke
genetic analyses supported a causal effect of vitamin D deficiency and dementia.
in some populations, as much as 17 per cent of dementia cases might be prevented by increasing everyone to normal levels of vitamin D (50 nmol/L).
Dementia is a chronic or progressive syndrome that leads to deterioration in cognitive function.
About 487,500 Australians live with dementia and it is the country's second leading cause of death.
Globally, more than 55 million people have dementia with 10 million new cases diagnosed every year.
University of South Australia Read the original article here.
Samantha Ratnam, Vic Greens leader ousts state convener
Samantha Ratnam has announced the ousting of controversial state convener Linda Gale. The Victorian Greens leader said that last week she successfully applied for the setting aside of recent election results.
Linda Gale
In 2019, Linda Gale co-authored a paper widely regarded as transphobic. That led to a social media backlash against her recent appointment to a casual vacancy as state convener. Gale consequently responded with a statement reaffirming the Greens' policy that 'trans rights are non-negotiable'.
However, she did not disavow comments in the 2019 paper. That prompted Greens Senator Janet Rice and two Victorian Greens MPs to call for her resignation.
Senator Rice said she welcomed Gale's statement, but it didn't go far enough. She said she regarded the 2019 paper as transphobic and "an attack on the very identity of trans and gender diverse people."Samantha Ratnam's statement
Samantha Ratnam tweeted an explanation of the process leading to Gale's removal as state convenor.
"So many Greens supporters have joined our movement over the years because of our unwavering commitment to equality, including for trans and gender-diverse people.
"Right now, those supporters are understandably very distressed and disappointed by what is happening in the party."
Samantha Ratnam went on to say that she successfully applied for the setting aside of Gale's appointment because of a failure to follow rules during the election process.
She also explained that she made no public statement until now for fear of compromising the process. But she said, her action succeeded.
"Linda Gale is no longer the Convenor of the Victorian Greens."
She said a new election would take place.
"I urge Linda to not re-contest the election."
"Let me be clear: the rights of trans and gender diverse people are not up for debate."
QNews Read the original article here.
Saudi Arabia bans rainbow-coloured toys, clothing and other products for "promoting homosexuality".
The state-run Al Ekhbariya news channel this week showed one raid on a store in capital city Riyadh. Ministry of Commerce officials inside the store point out a range of the items and pile them on the floor. The rainbow-coloured products included t-shirts, skirts, hats, hair clips, popping toys and pencil cases.
"We are giving a tour of the items that contradict the Islamic faith and public morals and promote homosexual colours targeting the younger generation," an official said, according to a translation by Agence France-Presse.
The media report also claimed a rainbow "homosexuality flag" visible for sale sends "a poisoned message to children".
Businesses in Saudi Arabia caught selling the rainbow products would face legal penalties, the ministry wrote.
Saudi Arabia strictly prohibits same-sex activity

Saudi Arabia strictly prohibits same-sex activity between men and women under Sharia law. Consensual same-sex sexual conduct is punishable in the kingdom by flogging or the death penalty.
Transgender people are also criminalised, with strict penalties for gender expression that violates the strict dress codes imposed by Islamic law.
QNews Read the original article here.
'Landmark' anthology 100 Queer Poems published for Pride month
This Pride month, a new anthology featuring the work of queer poets such as Langston Hughes, Ocean Vuong and Kae Tempest is "questioning and redefining what we mean by a 'queer' poem".
100 Queer Poems, edited by Andrew McMillan and Mary Jean Chan, features work from 20th-century poets as well as contemporary LGBTQ+ voices. It's a "landmark" anthology, said one of the contributing poets, Kit Fan, because there hasn't been a collection of this kind "for probably two or three decades". McMillan has described the book as "an update" to the Penguin Book of Homosexual Verse, the last major anthology of queer poems, published in 1986.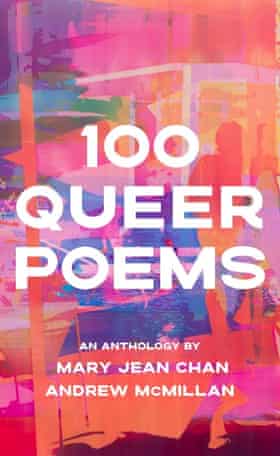 Jay Bernard, whose first poetry collection Surge was based on the New Cross fire archives and won the Ted Hughes award, said 100 Queer Poems was "coming at a critical, contradictory juncture: widespread hatred and distrust of trans people alongside huge efforts at representation and inclusion; general acceptance of cis gay and bisexual people yet rising intolerance post-Brexit; an increasingly vocal and visible intersex population, yet few legal rights or protections for them".
They added: "It will be interesting to see what poets today capture of this moment and how things shift in 10 or 20 years."
The Guardian Read the full article here.
Royal Mail has issued a set of stamps to mark the 50th anniversary of the first ever Pride march in the UK on 1 July 1972.
The set of eight stamps will celebrate the history-making Pride rally organised by the Gay Liberation Front, that took place from Trafalgar Square to Hyde Park, inspired by the first Pride events in New York. The stamps were illustrated by artist Sofie Birkin, while Royal Mail worked with journalist and author Amelia Abraham, and consulted with Royal Mail's internal LGBT & Friends Network to create the project.
Royal Mail explained that the stamp sets tell a story of Pride over time, from the first slogans in 1972, "Gay is beautiful", to the inclusive modern flag the LGBTQ+ community uses today.
Pink News Read the original article here.
America Nursing home settles historic transgender discrimination complaint
In a landmark settlement, a Maine assisted living facility has agreed to establish policies and procedures to ensure it is a welcoming place for LGBTQ seniors, after a 79-year-old transgender woman levied an accusation of discrimination.
When Marie King filed her complaint with the Maine Human Rights Commission in October, alleging that the Sunrise Assisted Living facility in the town of Jonesport refused her admission as a resident because she is transgender, it was believed to be the first complaint of this kind in U.S. history.
The settlement does not set a binding legal precedent. But legal experts nevertheless expect it to raise awareness that nursing homes and other assisted living facilities must abide by various state and federal laws barring them from discriminating against transgender people. The settlement also provides a roadmap for how such facilities can better serve the needs of LGBTQ seniors.
NBC News Read the full article here.
Austria lifts ban on donating blood.
Austria has lifted a de facto ban on LGBT+ citizens donating blood, the health ministry announced on Friday.

Citizens will only be prevented from donating blood if they have had sex with three different partners within the last three months, regardless of their gender or sexual orientation.

Previous laws had prevented anyone in Austria from donating blood if they had "risky sex" in the last 12 months. Transsexuals [sic] and non-binary citizens were completely banned from donating blood.
LGBT+ activists said the rules had allowed organisations to exclude gay, bisexual and transgender citizens due to the supposed risk of AIDS transmission.
"We are putting an end to discrimination from another age", Green party Health Minister Johannes Rauch said in a statement.
"If someone wants to help by donating, there is no reason why they should be prevented from doing so because of their sexual orientation or gender identity,"
The change in blood donation regulations will come into force "this summer", a government spokesman told AFP.
Yahoo! News Read the original article here.
BOOK & FILM REVIEWS
Do you have a book or movie review that you would like to share?
We would love to be able to share good LGBTI movies that you have seen, or books that you have read. You don't have to write more than a paragraph 🙂
Please send your reviews to Rowan at villagehub@grai.org.au
OPPORTUNITIES AND USEFUL LINKS
Special Dates in July
NAIDOC WEEK
3rd – 10th July
National NAIDOC Week celebrations are held across Australia in the first week of July each year (Sunday to Sunday), to celebrate and recognise the history, culture and achievements of Aboriginal and Torres Strait Islander peoples. NAIDOC Week is an opportunity for all Australians to learn about First Nations cultures and histories and participate in celebrations of the oldest, continuous living cultures on earth.
INTERNATIONAL NON-BINARY PEOPLE'S DAY JULY 14

The 14th of July is International Non-Binary People's Day. On this day we celebrate the rich diversity in gender and those who do not fit within the traditional gender binary.
Non-binary is an umbrella term for gender identities that sit within, outside of, across or between the spectrum of the male and female binary. A non-binary person might identify as gender-fluid, trans masculine, trans feminine, agender, or bigender, etc. Non-binary is sometimes shortened to NB or enby. Formal recognition of non-binary as a valid gender identity is growing rapidly.
Recent studies have found that non-binary people make up as much as 11% of all LGBTQ+ people – in the USA alone that's around 1.2 million people.
Two-spirit is an umbrella term used by some Native American and First Nations people to describe identities that exist beyond exclusively male or female, and do not correspond to non-Native structures of gender.
In Hawaii, māhū are non-binary people with a rich history of important spiritual and social roles. The notion of a third gender or "Mahu" is part of Polynesian culture. It can mean a gender between male and female, or gender fluid. In Hawaii and Tahiti, the Mahu people were highly respected in the indigenous culture as keepers of oral traditions and historical knowledge. Mahu people exist not only in the past but are an important part of queer culture in Hawaii today.
OPPORTUNITIES OF INTEREST
Do you live in South Perth?
The Inclusive Community Advisory Group (ICAG) is an existing group that is responsible for the City's Access and Inclusion Plan (click here for a copy).
There are two vacancies for community members on the ICAG. Nominees must be local residents or local business owners. We would love to fill one of these roles with someone in the LGBTQI+ space. Applications close 31st July.

Contact Leonie Merema Community Development OfficerSeniors & Access and Inclusion
P 9474 0764 M 0428 816 725 Eleonie.merema@southperth.wa.gov.au
My Aged Care
Need aged care services?
Don't know how or where to begin?

MY AGED CARE is the starting point to access Australian government-funded aged care services.
The phone line and website can help older Australians, their families and carers to get the help and support they need. http://myagedcare.gov.au/about-us or phone MY AGED CARE contact centre on 1800 200 422.